Web Form Anti-Spam
This easy-to use, effective and user-friendly solution will help you in protecting your web-content against various spam bots.
This help file describes how to make Web Form Anti-Spam do its job quickly, effectively and how to automate it.
How it works?
Web Form Anti-Spam can take any text and convert it into HTML <script> tag. All what you need is to place that tag into your HTML page. When you will open that page with Internet browser, the text will appear in place of that script. When unwanted reader will try to read that text by parsing HTML code, it will get nothing but crap.
Where can it be used?
You can protect web forms against spam bot as other web page content from direct access, like e-mail addresses or HTML code from being viewed by spam bots, search bots, or other people who may want to borrow your HTML code. For more details on using Web Form Anti-Spam, visit our site: www.webformantispam.com.
Getting started
As you are reading this help file, you must be successfully installed Web Form Anti-Spam. It has unpretentious system requirements and can work on any Windows system starting from Windows 2000, including but not limited to Windows XP and Windows Vista.
Let us start the program and look at the screenshot below: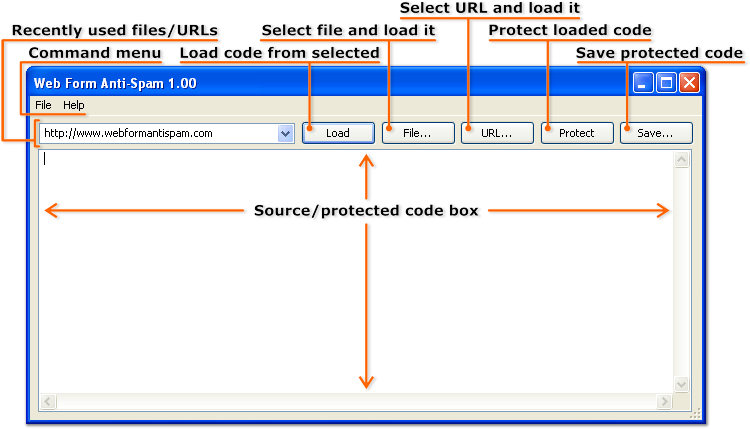 You can see that code box takes most of the application window. There you will put your source HTML code and there you will get it protected.
Above the code box are several controls allowing to load code from files, URLs and to do that faster with recently used ones. "Protect" button is the main – it will turn HTML inside the code box into protected. "Save..." button will let you save your results to a file.
For more information about protecting your code and files, read "Code protection" and "File protection" topics, respectively.